Hike in the Lap of Bhutan's Mount Jomolhari, "Mother Goddess Mountain of the World"
Group | 17 Days | Difficult to Challenging Trek
​
Dates: October 03 ~ 19, 2020
This journey is an opportunity to learn about snow leopard conservation and, if you are lucky, perhaps even spot one! Meet Bhutan's nomadic yak herding communities and attend the annual Snow Leopard festival, proceeds from which go to preserve local nomadic culture and endangered snow leopard habitat.
Trek into Snow Leopard habitat with possible chance sightings


See herds of beautiful Himalayan Blue Sheep


Experience the grandeur of Bhutan's second highest peak


Fully supported Himalayan expedition


Join a celebration of nomadic mountain culture


Witness how preserving indigenous culture goes hand-in-hand with wildlife protection and ecological conservation
Share This with a Friend:
FROM OUR PHOTOGALLERY
Tip: Hover over the main image (desktop) or tap lightly on main image (mobile) for image captions
Trek into the lap of Bhutan's mountain goddess, Mount Jomolhari, the kingdom's second highest peak. During this journey, we learn about snow leopard conservation, meet Bhutan's nomadic yak herding communities and attend the annual Snow Leopard festival, proceeds from which go to preserve local nomadic culture and snow leopard habitat.
But first, a cross-country cultural exploration with day hikes help us to acclimate for the trek. We cover the highlights of western and central Bhutan, bringing us back to the Paro valley where we begin the trek. In the high valley of Soe, we work with a respected elder to complete a holy Buddhist stupa to bless and protect all travelers on the high passes, giving us a first-hand insight into an important spiritual custom of Bhutan's hardy highland people.
—
To see photographs and read more about the Jomolhari region, please see: The people and the landscape of Bhutan's Mountain Goddess, A Photo Essay
DAY BY DAY
DAY 3: PUNAKHA'S ANCIENT FORTRESS & A COUNTRY HIKE
---
Transfer to the former capital of Punakha, a low valley that plunges down from the 10,000 ft Dochu La pass to around 4,000 ft at valley floor. Visit the massive Punakha Dzong (fortress) and hike through terraced fields to the Khamsum pagoda, a high-point with wide views of the broad river valley.
---
DAY 1: FLIGHT FROM BANGKOK, THAILAND, TO PARO, BHUTAN
---
Depart from Bangkok or another gateway city and arrive in Paro Valley. ● Settle into our comfortable lodge, with views of the terraced ricefields and mountains, followed by a short orientation and light touring.
---
DAY 2: EXPLORE BHUTAN'S BUSY CAPITAL, THIMPHU
---
Take a tour of the capital sights, including the beautiful white-washed memorial stupa, a monument to the kingdom's third monarch and the giant Buddha Dordenma, on a hill overlooking the capital, larger than Christ the Redeemer in Rio de Janeiro.
---
DAY 4: TRANSFER TO GANGTEY-PHOBJIKHA, VALLEY OF THE CRANES
---
Take the morning drive winding up the Black Mountain Range to the high plain of Gangtey-Phobjikha, home of wintering (rare) Black-necked Cranes. After lunch, complete the beautiful valley loop hike along the nature trail, arriving back at the lodge in time for dinner and rest.
---
DAY 5: RETURN TRANSFER TO PARO
---
Take the four-to-five-hour return drive to Paro, in time for a late lunch and an exploration of downtown Paro with an early dinner and rest for the morning hike to Tiger's Nest monastery.
---
DAY 6: EARLY MORNING HIKE TO TIGER'S NEST
---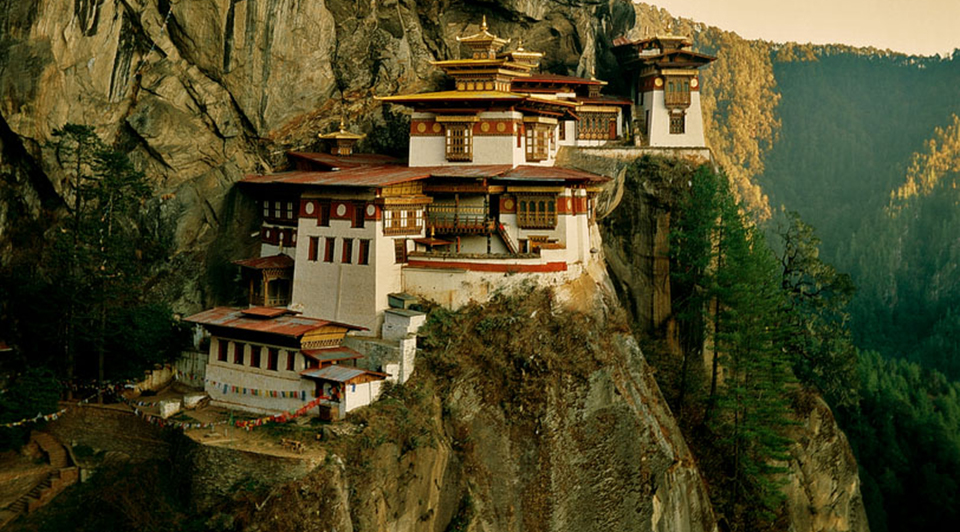 Take the early morning hike to spectacular Tiger's Nest monatery for special Buddhist blessings for the trek and your return trip home. Afternoon stroll through Paro market center and a round of traditional archery back at the lodge.
---
DAY 7: DRIVE TO SHANA ARMY OUTPOST & TRAIL HEAD
---
This morning drive to the army outpost of Shana and continue the trek to the first camp of Thangthangkha, near a pictureque stupa at the confluence of two moutain streams, or by the desginated camp by the tourism camp host's stone hut.
---
DAY 8: HIKE TO JOMOLHARI'S WESTERN SLOPE
---
Trek to a Hidden Mountain Temple in the western shadow of the Jomolhari massif ● After a day and half on the Jomolhari trail, we veer off the main trail to our caravan leader's (a local nomadic elder) ancestral lands local nomad elder's ancestral lands, a hidden valley high above the main trail rimmed by dominant cliffs, with a lovely glacial creek running through it.
---
DAY 9: EXLORE THE UPPER JOMOLHARI; STUPA BUILDING
---
Today we explore the breathtaking high valley around camp, a place of cascading waterfalls and a hidden mountain retreat. We may help our local caravan elder with completing the construction of a stupa to be used by the local nomadic communities ● Buddhist stupas are revered as spiritual protection for travelers passing through the region and people visiting this remote mountain monastery.
---
DAY 10: HIKE TO BASECAMP JOMOLHARI
---