Hike in the Lap of Bhutan's Mount Jomolhari, "Mother Goddess Mountain of the World"
Group | 17 Days | Difficult to Challenging Trek
​
Dates: October 03 ~ 19, 2020
This journey is an opportunity to learn about snow leopard conservation and, if you are lucky, perhaps even spot one! Meet Bhutan's nomadic yak herding communities and attend the annual Snow Leopard festival, proceeds from which go to preserve local nomadic culture and endangered snow leopard habitat.
Trek into Snow Leopard habitat with possible chance sightings


See herds of beautiful Himalayan Blue Sheep


Experience the grandeur of Bhutan's second highest peak


Fully supported Himalayan expedition


Join a celebration of nomadic mountain culture


Witness how preserving indigenous culture goes hand-in-hand with wildlife protection and ecological conservation
Share This with a Friend:
FROM OUR PHOTOGALLERY
Tip: Hover over the main image (desktop) or tap lightly on main image (mobile) for image captions
Trek into the lap of Bhutan's mountain goddess, Mount Jomolhari, the kingdom's second highest peak. During this journey, we learn about snow leopard conservation, meet Bhutan's nomadic yak herding communities and attend the annual Snow Leopard festival, proceeds from which go to preserve local nomadic culture and snow leopard habitat.
But first, a cross-country cultural exploration with day hikes help us to acclimate for the trek. We cover the highlights of western and central Bhutan, bringing us back to the Paro valley where we begin the trek. In the high valley of Soe, we work with a respected elder to complete a holy Buddhist stupa to bless and protect all travelers on the high passes, giving us a first-hand insight into an important spiritual custom of Bhutan's hardy highland people.
—
To see photographs and read more about the Jomolhari region, please see: The people and the landscape of Bhutan's Mountain Goddess, A Photo Essay
DAY BY DAY
DAY 3: PUNAKHA'S ANCIENT FORTRESS & A COUNTRY HIKE
---
Transfer to the former capital of Punakha, a low valley that plunges down from the 10,000 ft Dochu La pass to around 4,000 ft at valley floor. Visit the massive Punakha Dzong (fortress) and hike through terraced fields to the Khamsum pagoda, a high-point with wide views of the broad river valley.
---
DAY 1: FLIGHT FROM BANGKOK, THAILAND, TO PARO, BHUTAN
---
Depart from Bangkok or another gateway city and arrive in Paro Valley. ● Settle into our comfortable lodge, with views of the terraced ricefields and mountains, followed by a short orientation and light touring.
---
DAY 2: EXPLORE BHUTAN'S BUSY CAPITAL, THIMPHU
---
Take a tour of the capital sights, including the beautiful white-washed memorial stupa, a monument to the kingdom's third monarch and the giant Buddha Dordenma, on a hill overlooking the capital, larger than Christ the Redeemer in Rio de Janeiro.
---
DAY 4: TRANSFER TO GANGTEY-PHOBJIKHA, VALLEY OF THE CRANES
---
Take the morning drive winding up the Black Mountain Range to the high plain of Gangtey-Phobjikha, home of wintering (rare) Black-necked Cranes. After lunch, complete the beautiful valley loop hike along the nature trail, arriving back at the lodge in time for dinner and rest.
---
DAY 5: RETURN TRANSFER TO PARO
---
Take the four-to-five-hour return drive to Paro, in time for a late lunch and an exploration of downtown Paro with an early dinner and rest for the morning hike to Tiger's Nest monastery.
---
DAY 6: EARLY MORNING HIKE TO TIGER'S NEST
---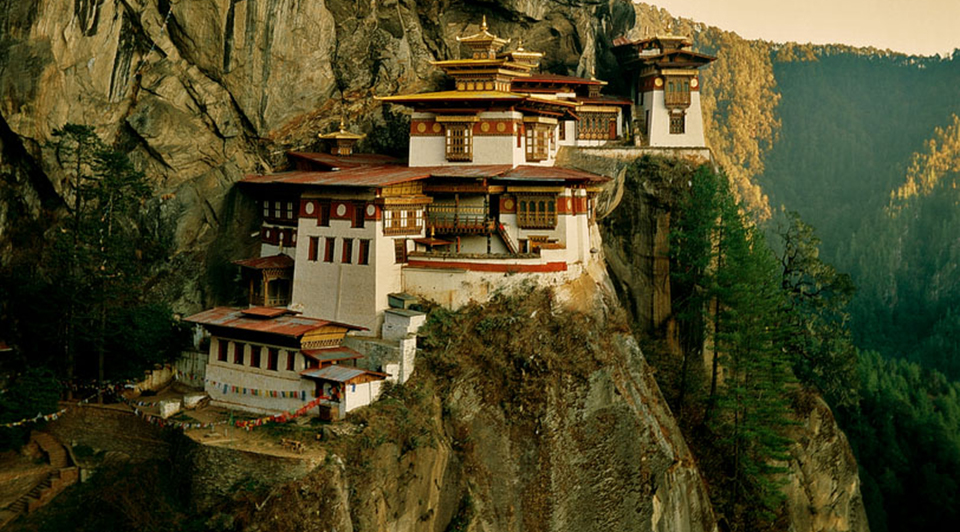 Take the early morning hike to spectacular Tiger's Nest monatery for special Buddhist blessings for the trek and your return trip home. Afternoon stroll through Paro market center and a round of traditional archery back at the lodge.
---
DAY 7: DRIVE TO SHANA ARMY OUTPOST & TRAIL HEAD
---
This morning drive to the army outpost of Shana and continue the trek to the first camp of Thangthangkha, near a pictureque stupa at the confluence of two moutain streams, or by the desginated camp by the tourism camp host's stone hut.
---
DAY 8: HIKE TO JOMOLHARI'S WESTERN SLOPE
---
Trek to a Hidden Mountain Temple in the western shadow of the Jomolhari massif ● After a day and half on the Jomolhari trail, we veer off the main trail to our caravan leader's (a local nomadic elder) ancestral lands local nomad elder's ancestral lands, a hidden valley high above the main trail rimmed by dominant cliffs, with a lovely glacial creek running through it.
---
DAY 9: EXLORE THE UPPER JOMOLHARI; STUPA BUILDING
---
Today we explore the breathtaking high valley around camp, a place of cascading waterfalls and a hidden mountain retreat. We may help our local caravan elder with completing the construction of a stupa to be used by the local nomadic communities ● Buddhist stupas are revered as spiritual protection for travelers passing through the region and people visiting this remote mountain monastery.
---
DAY 10: HIKE TO BASECAMP JOMOLHARI
---
Trek to Jomolhari Basecamp ● Follow a winding and spectacular high trail today with incredible views to descend to Jomolhari Basecamp where we settle in for the festival.
---
DAY 11: REST DAY AT BASECAMP OR HIKE THE VALLEY'S HIGH RIDGES
---
Take a rest day around Jomolhari Basecamp, participate in our annual ritual (smoke) offering to honor the sacred mountain, or explore surrounding ridges and slopes on easy to challenging hikes.
---
DAY 12: JOMOLHARI MOUNTAIN FESTIVAL
---
Enjoy our first day at the Jomolhari Mountain Festival, celebrating snow leopard conservation and local environmental protection and indigenous lifestyle and skills promotion by the government and local and international NGOs.
---
DAY 13: ATTEND A SECOND DAY OF FESTIVITIES OR HIKE IN SNOW LEOPARD & BLUE SHEEP TERRITORY
---
Attend the second day of the Snow Leopard Festival as the festivities ramp up with nomads staging folk dances, horse-races, yak dressage and traditional feats of strength. Or, take the challenging day-long exploration into the high ridges where Snow Leopards have been spotted, with sightings of Blue Sheep, their primary prey.
---
DAY 14: CLIMB TO BHONTE LA PASS (16,100 FT)
---
Trek to Soe Yaksa ● Ascend the highest pass of the trek today at Bhonte La (approx. 16,100ft) to descend through prime Snow Leopard and Blue Sheep habitat into the beautiful cleft valley of Soe, Yaksa.
---
DAY 15 & 16: RETURN HIKE OUT TO THANGTHANKHA CAMP; PARO
---
Complete the Jomolhari loop ● We complete the remainder of the Jomolhari Trek back to Soe Thangthathangka, finally exiting back into Shana army outpost with a return to Paro by night.
---
DAY 17: RETURN FLIGHT TO BANGKOK OR ANOTHER GATEWAY CITY
---
On the final morning of our journey, enjoy a leisurely breakfast (depending on the time of your departing flight) before the return transfer back to the airport in time to catch our flight to Bangkok or another gateway city from where you can catch your return flight home or other travel destinations
---
---
WHAT TO KNOW BEFORE YOU GO
The activities on this trip are rated as difficult-challenging, and a high level of physical fitness and comfort at high altitude is a must. Trip members should be fit and able to walk 6 to 8 hours daily, navigating mixed and steep terrain that may include rocky trails, slippery conditions and, or, steps and stairs. Daily activities include city walking tours, hiking to and entering monasteries, temples and fortresses, driving over winding mountain roads and strenuous trekking conditions once the expedition begins. The general elevations in the valleys will range from 6,800 ft to 9,000 ft, on the cultural portion while the featured trek/expedition on this journey will traverse terrain from 7,000 ft approximately to 13,000 ft at basecamp and up to 16,200 ft at the highest pass. Some of the optional ridge hikes around the basecamp of Jomolhari may take us even higher but those are optional. An easier option on the trek will include a return from 13,000 ft-14,000 ft at basecamp back down the trail to lower elevations, and will not require climbing the high pass at 16,100 ft (estimated).
​
Accommodations
The high-end accommodations on this journey feature traditional Bhutanese style with modern elements. The lodges are handpicked for regional character, comfort, and hospitality, including our beautiful family lodge in the central highlands of Bhutan, the Mountain Resort (see more on the Mountain Resort below). In peak season, depending on availability, we may use lodges comparable to the ones we have listed or advertised.
​
Expedition Staff
Every expedition is curated by expert native-born guides and trip leaders who also facilitate meetings and learning experiences with other locally knowledgeable people along the way. Our experienced team shares valuable insights and local expertise to ensure a culturally rich adventure of discovery through the Himalayan landscape and traditions of Bhutan.
​
Mountain Resort Entrance
Traditional Buddhist stupa in the outer courtyard of the family lodge
Serving Tea
All rooms at the Mountain Resort feature a spacious design with wood paneling and beams of local pine
Bhutanese Dishes
The food at the Mountain Resort features traditional favorites both mild and spicy
Mountain Resort Entrance
Traditional Buddhist stupa in the outer courtyard of the family lodge
Mountain Resort - Bumthang, Bhutan
​
Set against a sacred cloud forest a short distance below Bumthang's Jakar Dzong (fortress), our family-run lodge in Central Bhutan features the best elements of traditional architecture, including flagstones of river rock, the beautiful wood-and-stone masonry construction of Central Bhutan, and spacious rooms with wood paneling and post and beams of fragrant pine. Guests can enjoy a healing soak in traditional "hot stone" baths enhanced, in accordance with indigenous practices, by mugwort and other medicinal herbs. It's our perfect base for exploring the ample beauties and blessings of the central highlands of Bhutan.
2020 Dates
October 03 - 19, 2020
​
​
2021 Dates
​
2020 Pricing
$5,950
Per Person doubles; Single traveler Supplement ($550/-pp)
2021 Pricing
$5,950
Per Person doubles; Single traveler Supplement ($550/-pp)
​
Prices are per person based on double occupancy and do not include international airfare to/from your destination or internal flights during the expedition. Single traveler prices are available upon request. Internal flights are $980 per person & $175 per person where a short-duration flight is included on the itinerary. Surcharges may apply to certain travel dates based upon international or local holidays, as well as local events and festivals. All prices and fares are quoted in U.S. dollars and subject to change.
WHAT'S INCLUDED
​
All ground transportation, visas for Bhutan and airport transfers

All Accommodations

All meals, including excursions to try well-known local restaurants

The expertise and services of your Bhutanese Trip Leaders, Guides & dedicated trip field staff

Courtesy booking services & arrangements for round-trip regional flights from gateway cities (such as Bangkok) to Bhutan & any internal domestic flights (airfare is additional).

Sightseeing, special events & receptions, visits and entry fees

All environmental national parks & conservation fees and permits

All Trek Arrangements (if you signed up for a trek), including community camping and commissary equipment (comfortable and roomy two-person tents, kitchen and dining tents, and other community equipment), camp, cook and support staff
​
​
​
WHAT'S NOT INCLUDED
​
Airfare to and from destination, as well as internal airfare where applicable

Trip cancellation insurance or any other travel insurance

Alcoholic beverages

Gratuities
​
"...a challenging and rewarding experience. Many thanks to Karma and his team of guides, horseman, and camp chefs, and to my wonderful trekking companions for making this a trip of a lifetime."

~ Mark Pearson, Boise, ID
Fly from your home city to Bangkok, Singapore, New Delhi Kolkata or Kathmandu (Main Gateway Cities)*

Overnight

Fly from Gateway City to Paro, Bhutan.

​Important: Bhutan Himalaya Expeditions makes round-trip flight arrangements from the Gateway City of your choice to Bhutan as a courtesy to our travelers. Airfare is not included in trip price.
​
For further details please email us using the contact form on our Request Full Details page.
​
*Bangkok is the primary Gateway City & offers the most frequent and most reliable flights to Bhutan.