Travel to Bhutan's spiritual & cultural interiors to learn about a government in the service of human happiness
Group Travel| 12 Days

Moderate to challenging hikes; easy to moderate cultural touring

2021 Dates: currently TBD due to the pandemic & travel closures in Bhutan
​
High-end Accommodations
Bhutan is often described as a "happy place," a reference to the government's stated goal of "Gross National Happiness" for its citizens. The beautiful Himalayan landscape, the overarching cultural and spiritual sensibilities, and the philosophical outlook of the people make Bhutan's quest for a meaningful human existence more than mere Utopian lip service.
Learn about Bhutan's Gross National Happiness Policy and its relevance in the wider world


Meet interesting local officials and thought leaders


Attend an ancient mask dance festival


Visit some of the most beautiful temples and monasteries in the Himalayas


Markets, Monuments, optional hikes and more
In a world shaped by mass consumerism and ego-driven politics, Bhutan begs the question: "What is the secret to happiness in a country where the fundamental well-being of the people, termed Gross National Happiness, or GNH for short, is a higher goal instead of Gross Domestic Product? To answer this question, we meet well-known personalities and local thought leaders familiar with Bhutan's quest for a harmonious society based on its citizens' happiness.
​
We take a dramatic Himalayan flight from Paro in the west to Bumthang, in central Bhutan, where we visit exquisite temples and monasteries dating to the 8th century to study Vajrayana Buddhist art and cosmology. We learn about Bhutan's ancient customs and traditions and attend a colorful mask dance festival that provides a vibrant window into the people's spiritual and communal lives. Returning west via the scenic national highway, we meet interesting everyday Bhutanese people from all walks of life—including farmers, monks, shopkeepers, artists, and artisans—gaining key insights into local culture on long scenic hikes along forested trails while gradually deepening our appreciation for what makes a Bhutanese life environmentally sustainable, spiritually meaningful, and ultimately life-affirming—powerful ingredients to human happiness.
​
We stay at a series of scenic and well-appointed lodges built in the traditional style, enjoy the breathtaking Himalayan landscape, and close our unforgettable journey with a morning trek up to "Tiger's Nest," Bhutan's holy shrine perched on a 2,000-foot sheer cliff! This is an intimately curated journey presented with heartfelt authenticity into a tiny kingdom that offers its striking message of balance, peace, and harmony in a world that can seem poised on the brink of forgetting the core values of our common humanity. If you're a traveler who seeks to influence world affairs positively and wants to return home from your travels not just with happy memories but with valuable life-lessons you can use in your day-to-day, this is a journey that will stay with you long after the pictures have faded!
​
DAY BY DAY
DAY 01: FLIGHT FROM BANGKOK, THAILAND, TO PARO, BHUTAN
---
Stroll into Paro town, visit the national museum and 7th century Kyichu Temple ● Settle into your comfortable, well-appointed lodge.
Meals included: Lunch, Dinner
Accommodations: The Olathang Hotel or comparable
---
DAY 02 ~ 03: MOUNTAIN FLIGHT TO JAKAR | PILGRIM'S HIKE | FESTIVAL
---
Take the beautiful mountain flight to Bumthang valley in central Bhutan and complete the mostly level walking loop around the valley entering several temples along the way ● Experience a medieval Bhutanese mask dance festival with all the religious pageantry and and cultural symbolism alongside local residents.
Meals included: Breakfast, Lunch, Dinner
Accommodations: Mountain Resort or comparable
---
DAY 04 ~ 05: FESTIVAL, HIKING, TANG VALLEY
---
Enjoy a second day at central Bhutan's remarkable annual festival, or explore the beautiful trails of Chamkhar on foot (optional) or alternately explore some of the valley's more remote temples and monasteries ● Explore the beautiful Tang valley, gateway to Eastern Bhutan. Learn about Bhutanese life as it has continued for centuries, visit a peaceful Buddhist nunnery.
Meals included: Breakfast, lunch, dinner
Accommodations: Mountain Resort or comparable
---
DAY 06 ~ 07: DRIVE TO TRONGSA, ROYAL MUSEUM, PUNAKHA
---
Drive from the scenic highlands Bumthang into the lush gorges and valleys of Trongsa; visit the royal museum and the magnificent fortress of Trongsa. ● Drive over the high pass of Pele La to the sultry valleys of Punakha, with scenic stops enroute.
Meals included: Breakfast, Lunch, Dinner
Accommodations: Mountain Resort or comparable
---
DAY 08 ~ 10: EXPLORE PUNAKHA, BHUTAN'S VIBRANT CAPITAL | MEET EMERGING LEADERS IN BHUTANESE GOVERNMENT & PRIVATE SECTOR
---
Visit beautiful Punakha Dzong and peaceful local temples and villages ● Drive over the high pass of Dochu La to Thimphu with views of the greater Himalayan peaks; explore the markets and monuments of Bhutan's busy capital; evening dinner with Bhutanese dignitaries, thought leaders and artists where you exchange ideas and learn more about the practical applications of Bhutan's GNH philosophy ● Explore Bhutan's exciting and vibrant capital, its museums, markets and monuments.
Meals included: Breakfast, Lunch, Dinner
Accommodations: Mountain Resort or comparable
---
DAY 11: TIGER'S NEST HIKE FAREWELL DINNER
---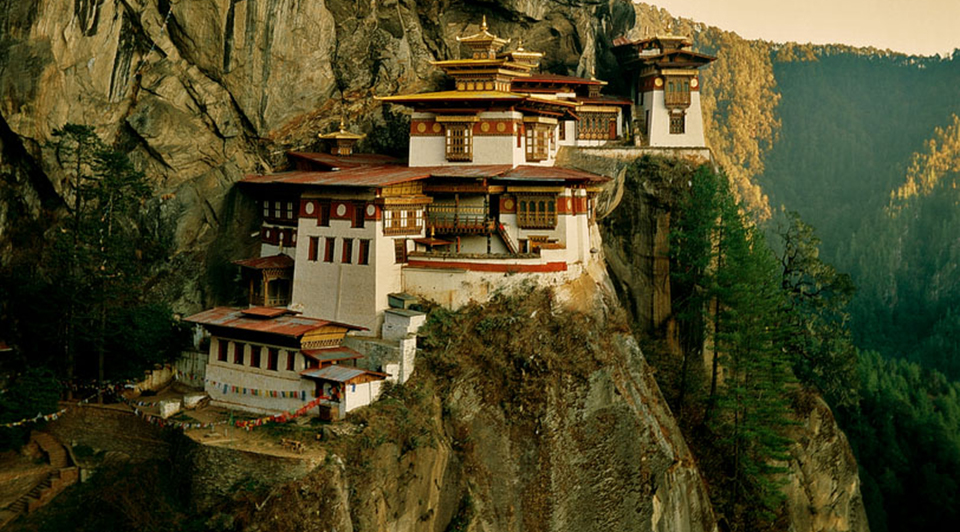 Cap your journey across Bhutan with an early hike to the famous cliffside monastery at Taktshang, or the "Tiger's Nest." Complete the strenuous hike to the monastery, perched on a steep rock face more than 2,000ft above the valley floor, or rest at the halfway viewpoint to admire the beauty of the surrounding mountains, the magnificent temple, and meditation retreats that sit above the famous site. Return to the Paro's for a delicious lunch at a special friend's busy restaurant before walking along the shops and windows to people-watch or pick up last-minute gifts and reminders of your trip. This evening we have a special farewell feast at a surprise location featuring some familiar and some new Himalayan delicacies!
Meals included: Breakfast, Lunch, Dinner
Accommodations: Olathang Hotel or comparable
---
DAY 12: BANGKOK, THAILAND | DEPARTURE
---
This morning/afternoon we bring you back to the airport in time for you to catch your flight to Bangkok or another gateway city, from where you can connect with your international flight home, or travel to other destinations.
---
---
WHAT TO KNOW BEFORE YOU GO
The activities on this trip are rated as moderate and suits a wide range of interests and physical fitness levels. The hikes on this trip can range from moderate to challenging, depending on your abilities. Trip members should be in good health and comfortable standing or walking for extended periods of time and confident navigating mixed and steep terrain that may include rocky trails, slippery conditions and, or, steps and stairs. Daily activities include city walking tours, hiking to and entering monasteries, temples and fortresses, driving over winding mountain roads and easy to moderate hiking with some strenuous options where possible. The general elevations in the valleys will mostly range from 6,800 ft to 9,000 ft, with drives that will take us over higher passes before descending to the average elevations mentioned above. The final hike to Tiger's Nest Monastery is 10,000 ft.
​
Accommodations
The high-end accommodations on this journey feature traditional Bhutanese style with modern elements. The lodges are handpicked for regional character, comfort, and hospitality, including our beautiful family lodge in the central highlands of Bhutan, the Mountain Resort (see more on the Mountain Resort below). In peak season, depending on availability, we may use lodges comparable to the ones we have listed or advertised.
​
Expedition Staff
Every expedition is curated by expert native-born guides and trip leaders who also facilitate meetings and learning experiences with other locally knowledgeable people along the way. Our experienced team shares valuable insights and local expertise to ensure a culturally rich adventure of discovery through the Himalayan landscape and traditions of Bhutan.
Passport Requirements
All Travelers must carry passports that will remain valid to a minimum 6 months AFTER the final date of travel in Bhutan.
​
Visas
Bhutan Himalaya Expeditions will take care of all visa requirements
​
Regional and Domestic Flights
Bhutan Himalaya Expeditions will take care of all regional flights from the gateway city of your choice and all local domestic flights. It is your responsibility to shop for, and book, flights from your home city to a gateway city (such as Bangkok).
Mountain Resort Entrance
Traditional Buddhist stupa in the outer courtyard of the family lodge
Serving Tea
All rooms at the Mountain Resort feature a spacious design with wood paneling and beams of local pine
Bhutanese Dishes
The food at the Mountain Resort features traditional favorites both mild and spicy
Mountain Resort Entrance
Traditional Buddhist stupa in the outer courtyard of the family lodge
Mountain Resort - Bumthang, Bhutan
​
Set against a sacred cloud forest a short distance below Bumthang's Jakar Dzong (fortress), our family-run lodge in Central Bhutan features the best elements of traditional architecture, including flagstones of river rock, the beautiful wood-and-stone masonry construction of Central Bhutan, and spacious rooms with wood paneling and post and beams of fragrant pine. Guests can enjoy a healing soak in traditional "hot stone" baths enhanced, in accordance with indigenous practices, by mugwort and other medicinal herbs. It's our perfect base for exploring the ample beauties and blessings of the central highlands of Bhutan.
2020 Dates
November 12 ~ 23 (closed to new participants)
November 24 ~ December 05 (open)
​
2021 Dates
For a limited time only: custom dates available for both Spring & Fall
​
2020 Pricing
$4,500
Per Person
2021 Pricing
$4,500
Per Person
Prices are per person based on double occupancy and do not include international airfare to/from your destination or internal flights during the expedition. Single traveler prices are available upon request. Internal flights are $980 per person & $175 per person where a short-duration flight is included on the itinerary. Surcharges may apply to certain travel dates based upon international or local holidays, as well as local events and festivals. All prices and fares are quoted in U.S. dollars and subject to change.
WHAT'S INCLUDED
​
All ground transportation, visas for Bhutan and airport transfers

All Accommodations

All meals, including excursions to try well-known local restaurants

The expertise and services of your Bhutanese Trip Leaders, Guides & dedicated trip field staff

Courtesy booking services & arrangements for round-trip regional flights from gateway cities (such as Bangkok) to Bhutan & any internal domestic flights (airfare is additional).

Sightseeing, special events & receptions, visits and entry fees

All environmental national parks & conservation fees and permits

All Trek Arrangements (if you signed up for a trek), including community camping and commissary equipment (comfortable and roomy two-person tents, kitchen and dining tents, and other community equipment), camp, cook and support staff
​
​
​
WHAT'S NOT INCLUDED
​
Airfare to and from destination, as well as internal airfare where applicable

Trip cancellation insurance or any other travel insurance

Alcoholic beverages

Gratuities
​
"Through the eyes of a select few informed leaders we saw the dilemmas of a culture: A hitherto sheltered nation discovering the arguments for and against remaining a cloistered society in this 21st Century. I loved the adventure, and I loved the discovery. Unlike anything else I have ever experienced!"

~ Lola W
​Fly from your home city to Bangkok, Singapore, New Delhi Kolkata or Kathmandu (Main Gateway Cities)*
Overnight
Fly from Gateway City to Paro, Bhutan.
​Important: Bhutan Himalaya Expeditions makes round-trip flight arrangements from the Gateway City of your choice to Bhutan as a courtesy to our travelers. Airfare is not included in trip price.
​
For further details please email us using the contact form on our Request Full Details page.
​
*Bangkok is the primary Gateway City & offers the most frequent and most reliable flights to Bhutan.
CUSTOM JOURNEYS TAILORED JUST FOR YOU
___

Did you know we also arrange custom journeys throughout the year? Just tell us what you need from your trip and we will put it together for you.