Discover western Bhutan's high Himalayan ridge-line & its sacred alpine lake
Group Travel| 14 days

High-altitude trek with 6 ~ 8 hours of steep hiking
​
2020 Dates: November 10 ~ 23

2021 Dates:
​
November 10 ~ 23; other custom dates available
​
High-end accommodations & all-inclusive expedition camps
Hike and camp amid the steep and dramatic slopes of the western Bhutan Himalaya, ascending to high passes marked by photogenic cairns and brightly colored prayer flags, opening to vistas of the rugged snow-capped peaks. Climb above the tree-line and drop to deeply forested valleys, camp beside the lake on a scenic meadow looking out to the the mountainous border of India and China. Meet the rigors of our 6- to 8-hour treks by day, and relax amid the relative comfort and camaraderie of our fully supported camps by night; savor the experience of a classic high Himalayan trek that includes cultural highlights and lodge-based hiking that supplements your training and perfectly acclimates you for the trail.
​
Share This with a Friend:
Beautiful mountain views


Wildflowers (in season)


High-end traditionally authentic lodges & resorts


Fully supported Himalayan Trek


Highlights of West & Central Bhutan


Mountains, Temples & Monasteries


Pre-trek cultural acclimation hikes


Beginning with a steep ascent through a lush landscape of oak and deciduous trees that display their vibrant colors best in late fall, this trek is among the most rewarding ones in western Bhutan because of its lightly traveled trails. According to local belief the sacred Tshonapata lake in the western Ha Valley holds within its depths many holy relics and treasures that predestined awakened beings can see and, subsequently, reveal to the world for the benefit of all beings. One such master was the Terton or "Treasure Revealer" Sherab Mebar who extracted a magic cymbal from its depths that is still used to make music on the first day of the holiest days of the Buddhist calendar. This beautiful Himalayan ridge-line trek celebrates the outstanding Bhutanese tradition of cleansing the spirit by trekking to revered lakes and holy mountains. Join us on this adventure honoring that most Bhutanese of traditions!
DAY BY DAY
DAY 01: FLIGHT FROM BANGKOK, THAILAND, TO PARO, BHUTAN
---
Stroll into Paro town, visit the national museum and 7th century Kyichu Temple ● Settle into your comfortable, well-appointed lodge.
Meals included: Lunch, Dinner
Accommodations: The Olathang Hotel or comparable
---
DAY 02: EXPLORE BHUTAN'S CAPITAL | HIKE TO TANGO MONASTERY
---
Dive into Bhutanese culture with a hike to 17th century Tango Buddhist College, followed by a trip to the magnificent Royal Textile Academy, and an exploration of Thimphu's colorful city center. End the day with a late afternoon-early evening walk alongside Buddhist devotees at the National Memorial Stupa, built in memory of Bhutan's third king.
Meals included: Breakfast, Lunch, Dinner
Accommodations: Mountain Resort or comparable
---
DAY 03: LEARN TO COOK A BHUTANESE MEAL | TRANSFER TO PUNAKHA VALLEY, BHUTAN'S ANCIENT CAPITAL
---
M
eet a surprise Bhutanese food personality this morning and learn about traditional Bhutanese cuisine at her home. After helping prepare a Bhutanese feast, enjoy the furits of your labor and, following the repast, contunue east to Bhutan's old capital.
Meals included: Breakfast, lunch, dinner
Accommodations: Zhingkham Resort or comparable
---
DAY 04: EXPLORE REGAL PUNAKHA
---
Explore the regal valley of Punakha, home to Bhutan's Queen Mothers and some of Bhutan's most exquisite temples. Visit the magnificent and historic Punakha Dzong, walk the length of Bhutan's longest suspension bridge and hike to panoramic Khamsum pagoda while exploring villages surrounded by ancient rice-terraces.
Meals included: Breakfast, Lunch, Dinner
Accommodations: Zhingkham Resort or comparable
---
DAY 05: DRIVE TO GANGTEY VALLEY | NATURE HIKE | BLACK-NECKED CRANES
---
We drive today along the national highway east through the spectacular Black Mountain Range. If we're lucky, we may spot some of Bhutan's rare White Langur monkeys among the flame-trees, magnolia, birch, rhododendron and Asian Maple in this vegetation-rich zone. We arrive in time to take an afternoon hike along the beautiful Phobjikha Nature Trail, and rest this evening at our charming eco lodge set in a small village on the valley floor. If you're taking this trip in November, you're in luck! Keep an eye out for the beautiful and endangered black-necked cranes that make the valley their winter home from November until March.
Meals included: Breakfast, Lunch, Dinner
Accommodations: Ecolodge or comparable
---
DAY 13: TIGER'S NEST HIKE | FAREWELL DINNER
---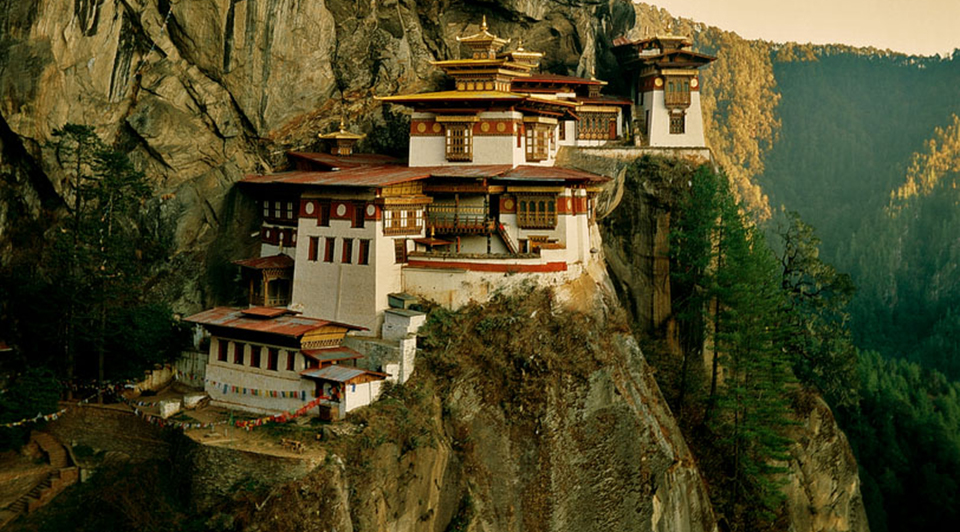 Cap your journey across Bhutan with an early hike to the famous cliffside monastery at Taktshang, or the "Tiger's Nest." Complete the strenuous hike to the monastery, perched on a steep rock face more than 2,000ft above the valley floor, or rest at the halfway viewpoint to admire the beauty of the surrounding mountains, the magnificent temple, and meditation retreats that sit above the famous site. Return to the Paro's for a delicious lunch at a special friend's busy restaurant before walking along the shops and windows to people-watch or pick up last-minute gifts and reminders of your trip. This evening we have a special farewell feast at a surprise location featuring some familiar and some new Himalayan delicacies!
Meals included: Breakfast, Lunch, Dinner
Accommodations: Olathang Hotel or comparable
---
DAY 14: BANGKOK, THAILAND | DEPARTURE
---
This morning/afternoon we bring you back to the airport in time for you to catch your flight to Bangkok or another gateway city, from where you can connect with your international flight home, or travel to other destinations.
---
DAY 06: RETURN DRIVE WEST TO HAA VALLEY
---
We start the drive early this morning and arrive shortly before mid-day at the lodge. After resting from our long drive, we continue down the valley to meet with the regional hosts and dignitaries and enjoy our open-air picnic in grand Bhutanese style. We return to the lodge for an early lights-out and rest for the trek.
Meals included: Breakfast, Lunch, Dinner
Accommodations: Lechuna Heritage Lodge or comparable
---
DAY 07 ~ 12: TREK TO TREASURE LAKE
---
This is not one of Bhutan's more famous treks and is, for that very reason, one of our favorites. This less-tarveled route gives us the option to share the purer aspects of trekking in Bhutan by cutting out the busier trails. In fact we like to think of it as our little secret! Climbing sharply through oak and deciduous trees with vibrant leaves that are best in late fall, it takes us along a high Himalayan ridge-line before descending to the peaceful lake where its mirror surface reflects an ever-changing sky.
Meals included: Breakfast, Lunch, Dinner
Accommodations: Fully supported Bhutan Himalaya Camps & Tents
---
---
WHAT TO KNOW BEFORE YOU GO
The activities on this trip are rated as difficult-challenging, and a high level of physical fitness and comfort at high altitude is a must. Trip members should be fit and able to walk 6 to 8 hours daily, navigating mixed and steep terrain that may include rocky trails, slippery conditions and, or, steps and stairs. Daily activities include city walking tours, hiking to and entering monasteries, temples and fortresses, driving over winding mountain roads and strenuous trekking conditions once the expedition begins. The general elevations in the valleys will range from 6,800 ft to 9,000 ft, on the cultural portion while the featured trek/expedition on this journey will traverse terrain from 7,000 ft approximately to 15,000 ft at campsites and up to 16,300 ft at the highest pass. An easier option, altitude-wise, on the trek will include a longer hike on two of the days while the high pass topping out approximately at 16,300 ft provides steeper but shorter days.
​
Accommodations
The high-end accommodations on this journey feature traditional Bhutanese style with modern elements. The lodges are handpicked for regional character, comfort, and hospitality, including our beautiful family lodge in the central highlands of Bhutan, the Mountain Resort (see more on the Mountain Resort below). In peak season, depending on availability, we may use lodges comparable to the ones we have listed or advertised.
​