Bhutan in the Time of Rhododendrons: Spring 2020 journey
Group | 12 Days | Moderate Touring
​
Dates: April 09 ~ 20, 2020
Discover Bhutan when the kingdom's legendary wild rhododendrons bloom like the exuberant whorls of a flamenco dancer's dress. Hike along forested trails overhung with spring rhododendrons to enter secluded valleys and visit ancient Buddhist temples and monasteries; learn about Bhutanese culinary traditions with a curator of Bhutanese heritage foods. Experience the Himalayan landscape of Bhutan during one of the loveliest seasons of the Bhutanese year.
Excellent time of year for nature enthusiasts


Hike to Tiger's Nest Monastery


High-end, traditionally authentic lodges & accommodations


Highlights of central & western Bhutan


Markets, monuments, museums and more
Bhutan's wild and magnificent rhododendron blooms elevate the stunning landscape, transforming the merely beautiful into an journey that is unforgettable. Old growth rhododendron forests, such as those found in Bhutan and a few other parts of the Himalayas have long fascinated explorers, botanists, collectors and enthusiasts. This journey coincides with the long season of flowering rhododendrons in Bhutan and takes us to a centuries-old village in the center of Bhutan where we get a taste of traditional life. Traveling along the east-west national highway, we stop to "smell the flowers," and explore hiking trails redolent with the breath of Himalayan pines. Enter a series of awe-inspiring Buddhist monasteries strung across the country like pearls on a necklace before the final, spectacular, ascent to Tiger's Nest monastery, one of Bhutan's most beloved shrines.
—
RELATED:
Our In Focus feature The Magnificent Madness of Bhutan's Wild Rhododendron Blooms
DAY BY DAY
DAY 1: FLIGHT FROM BANGKOK, THAILAND TO PARO, BHUTAN
---
Take the breathtaking flight to Bhutan from Bangkok this morning with some of the highest peaks in the world rearing their heads above the clouds, including Mt. Everest. After meeting your Bhutanese guide—who will travel with you for the duration of your stay—at the airport, we transfer to our lodge in the forested hills overlooking Paro town. Meals included: Lunch, Dinner Accommodations: The Olathang Hotel or comparable
---
DAY 9: EXPLORE BHUTAN'S CAPITAL
---
This morning, we explore the bustling and exciting capital of Bhutan. Thimphu has some of the most impressive markets in the country as well as many colorful temples and monasteries scattered around the valley. Later, dive into Bhutanese culture with a trip to the magnificent Royal Textile Academy and learn about Bhutan's 13 sacred arts and crafts.
Meals included: Breakfast, Lunch, Dinner
Accommodations: The Thimphu City Hotel or comparable
---
DAY 10: MORE CAPITAL SIGHTS & LEARNING TO COOK BHUTANESE/PARO
---
Today, meet a Bhutanese food curator and learn to cook a traditional Bhutanese meal with her and her team. Visit a beautiful nunnery overlooking the valley, and take an optional hike with sweeping views of the capital. Transfer this evening with an hour-long return drive to Paro Valley Meals included: Breakfast, Lunch, Dinner Accommodations: Olathang Hotel or comparable
---
DAY 2: FLIGHT TO JAKAR, CENTRAL BHUTAN
---
A dramatic mountain flight past Bhutan's Himalayan peaks brings us to Jakar valley in central Bhutan. We check into our family-owned lodge and begin our stay with an exploration of the Jakar town. Meals included: Breakfast, Lunch, Dinner Accommodations: The Mountain Resort or comparable
---
DAY 5: EXPLORE TANG VALLEY
---
Spend the day on an excursion to bucolic Tang valley where we eat at a traditional farmhouse featuring ingredients grown on the farm. Cross a suspension bridge and enter a village where time seems to have stopped still before continuing on a hike to Tang Orgyencholing Palace with its surrounding homes and ancient palace complex, now a wonderful repository of Bhutanese history. Meals included: Breakfast, Lunch, Dinner Accommodations: Mountain Resort or comparable
---
DAY 3: PILGRIM'S WALK, JAKAR
---
Follow the ancient pilgrim's route around the Jakar Valley on foot with optional van support. The loop around the valley takes us past some of the most beautiful architectural monuments in the premier central Bhutanese valley and provides glimpses of daily local life, including the popular pastime of weaving. Meals included: Breakfast, Lunch, Dinner Accommodations: Mountain Resort or comparable
---
DAY 12: BANGKOK, THAILAND/DEPART
---
Depart for Bangkok where you can connect with your international flight home.
---
DAY 6: DRIVE OVERLAND TO GANGTEY VALLEY
---
We drive today along the national highway back west through the spectacular Black Mountain Range. If we're lucky, we may spot some of Bhutan's rare White Langur monkeys among the flame-trees, magnolia, birch, rhododendron and Asian Maple in this vegetation-rich zone. This evening we rest at our comfortable lodge in Gangtey (with a view of the valley) or, alternately, Trongsa (with a view of the longest fortress in Bhutan). Meals included: Breakfast, Lunch, Dinner Accommodations: Dewachen Lodge, RKPO Lodge, or Yangkhil Resort
---
DAY 8: EXPLORE PUNAKHA/TRANSFER TO THE CAPITAL
---
Explore the regal valley of Punakha, home to Bhutan's Queen Mothers and some of Bhutan's most exquisite temples. Hike to panoramic Khamsum pagoda, explore villages surrounded by ancient rice-terraces, enter monumental Punakha Dzong and receive a traditional Buddhist blessing. This evening we transfer over the Dochu-la pass to the capital, Thimphu Meals included: Breakfast, Lunch, Dinner Accommodations: Thimphu City Hotel or comparable
---
DAY 7: DRIVE TO PUNAKHA AND TEMPLES TOUR
---
This morning we hike the flanks of beautiful Gangtey valley to the nature center and continue our drive along the east-west highway and arrive in the fertile Lobeysa valley in time for a delicious traditional red rice lunch. In the afternoon, we walk along rice terraces and visit a nearby village and its historic temple/monastery. Meals included: Breakfast, Lunch, Dinner Accommodations: Zhingkham Resort or comparable
---
DAY 11: HIKE TO TIGER'S NEST
---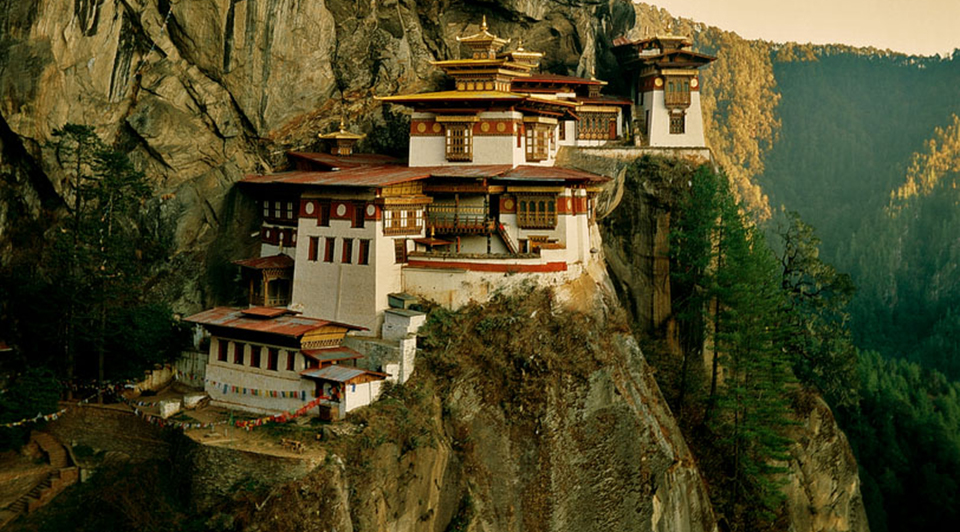 A dramatic hike up the valley's most famous trail brings us to magnificent Tiger's Nest. Later, we have time to explore the colorful market center and maybe even the fabulous 7th century Kyichu Temple where we can light votive butter lamps for World Peace. Meals included: Breakfast, Lunch, Dinner Accommodations: Olathang Hotel or comparable
---
DAY 4: EXPLORE BUMTHANG
---
We make an indepth exploration of the central Bumthang region today: among the several options are visits to more temples and monasteries, traditional village life and hiking on surrounding forested trails with a stop to sample the local brews and Bumthang's famed "Swiss" Cheese. Meals included: Breakfast, Lunch, Dinner
---
---
WHAT TO KNOW BEFORE YOU GO
The activities on this trip are rated as moderate and suits a wide range of interests and physical fitness levels. Trip members should be in good health and comfortable standing or walking for extended periods of time and confident navigating mixed and steep terrain that may include rocky trails, slippery conditions and, or, steps and stairs. Daily activities include city walking tours, hiking to and entering monasteries, temples and fortresses, driving over winding mountain roads and easy to moderate hiking with some strenuous options where possible. The general elevations in the valleys will mostly range from 6,800 ft to 9,000 ft, with drives that will take us over higher passes before descending to the average elevations mentioned above. The final hike to Tiger's Nest Monastery is 10,000 ft.
​
Accommodations
The high-end accommodations on this journey feature traditional Bhutanese style with modern elements. The lodges are handpicked for regional character, comfort, and hospitality, including our beautiful family lodge in the central highlands of Bhutan, the Mountain Resort (see more on the Mountain Resort below). In peak season, depending on availability, we may use lodges comparable to the ones we have listed or advertised.
​
Expedition Staff
Every expedition is curated by expert native-born guides and trip leaders who also facilitate meetings and learning experiences with other locally knowledgeable people along the way. Our experienced team shares valuable insights and local expertise to ensure a culturally rich adventure of discovery through the Himalayan landscape and traditions of Bhutan.
​
Mountain Resort - Bumthang, Bhutan
​
Set against a sacred cloud forest a short distance below Bumthang's Jakar Dzong (fortress), our family-run lodge in Central Bhutan features the best elements of traditional architecture, including flagstones of river rock, the beautiful wood-and-stone masonry construction of Central Bhutan, and spacious rooms with wood paneling and post and beams of fragrant pine. Guests can enjoy a healing soak in traditional "hot stone" baths enhanced, in accordance with indigenous practices, by mugwort and other medicinal herbs. It's our perfect base for exploring the ample beauties and blessings of the central highlands of Bhutan.
2020 Dates
April 09 - 20, 2020
​
​
2021 Dates
​
2020 Pricing
$4,500
Per Person doubles; Single traveler Supplement ($550/-pp)
2021 Pricing
$4,500
Per Person doubles; Single traveler Supplement ($550/-pp)
​
Prices are per person based on double occupancy and do not include international airfare to/from your destination or internal flights during the expedition. Single traveler prices are available upon request. Internal flights are $980 per person & $175 per person where a short-duration flight is included on the itinerary. Surcharges may apply to certain travel dates based upon international or local holidays, as well as local events and festivals. All prices and fares are quoted in U.S. dollars and subject to change.
WHAT'S INCLUDED
​
All ground transportation, visas for Bhutan and airport transfers

All Accommodations

All meals, including excursions to try well-known local restaurants

The expertise and services of your Bhutanese Trip Leaders, Guides & dedicated trip field staff

Courtesy booking services & arrangements for round-trip regional flights from gateway cities (such as Bangkok) to Bhutan & any internal domestic flights (airfare is additional).

Sightseeing, special events & receptions, visits and entry fees

All environmental national parks & conservation fees and permits

All Trek Arrangements (if you signed up for a trek), including community camping and commissary equipment (comfortable and roomy two-person tents, kitchen and dining tents, and other community equipment), camp, cook and support staff
​
​
​
WHAT'S NOT INCLUDED
​
Airfare to and from destination, as well as internal airfare where applicable

Trip cancellation insurance or any other travel insurance

Alcoholic beverages

Gratuities
​
"The country is beautiful, and its story is compelling but the special sense of a privileged view into the life of the country that you provided is beyond describing. We are very grateful; thank you!"

~ Laurie H. Z, Denver, Co.
Fly from your home city to Bangkok, Singapore, New Delhi Kolkata or Kathmandu (Main Gateway Cities)*

Overnight

Fly from Gateway City to Paro, Bhutan.

​Important: Bhutan Himalaya Expeditions makes round-trip flight arrangements from the Gateway City of your choice to Bhutan as a courtesy to our travelers. Airfare is not included in trip price.
​
For further details please email us using the contact form on our Request Full Details page.
​
*Bangkok is the primary Gateway City & offers the most frequent and most reliable flights to Bhutan.
CUSTOM JOURNEYS TAILORED JUST FOR YOU
___

Did you know we also arrange custom journeys throughout the year? Just tell us what you need from your trip and we will put it together for you.
TRAVEL EXTENSIONS TO
CAMBODIA & LAOS
___
​
(with optional Bangkok Transit arrangements)
​
If you'd like to spend a little more time exploring the magnificent World Heritage sites of Cambodia and Laos before or after Bhutan with arrangements in and out of Bangkok, we can take care of those details as well. Tie in a visit to the awe-inspiring temples of Angkor Wat or explore the quaint streets of Luang Prabang where French Colonial meets a distinctly unique Asian sensibility.